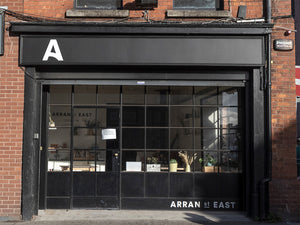 Established in 2015, Arran Street East is a craft & design studio
Our flagship store is based in the markets area of Dublin city centre. We make pottery and woven homewares to our own functional designs, and have a keen interest in sustainability and the circular economy.
Each crafted piece is individually made by hand using locally inspired colours and materials, and while our pottery and textiles are designed and made to mix and match, no two items are exactly the same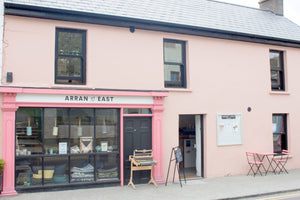 We've opened in the seaside town of Schull, West Cork 
Arran Street East Coffee shop and Studio opened in 2022 and is a centre for making and learning traditional crafts. We offer pottery & weaving workshops in a beautifully restored barn located behind the Main Street in Schull.
Come in and enjoy a coffee, explore our collection and soak up the atmosphere.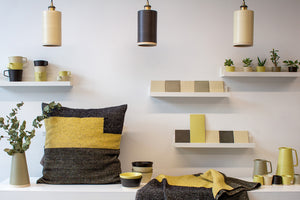 We make pottery and woven homewares to our own functional designs, and have a keen interest in sustainability and the circular economy. 
Our Story
Born from the search for a simple, hand-thrown pot in great colours, Arran Street East designs and produces homewares for people who enjoy simple, functional, and beautiful objects.
We take time to design things that work, merging an architecturally influenced aesthetic and traditional processes to produce useful objects for everyday life, with pattern and symmetry as our watchwords.
Rigorously designed and tested to enhance the experience of eating and drinking, our simple forms and complementary shapes allow our pieces to withstand everyday use, or just to act as an adornment for your home.
Sustainability is at the heart of what we strive for. Where possible, our packaging and materials are sustainably sourced and environmentally friendly.
How we make our products
We make our pottery and textiles using traditional methods and materials, through our own original designs and use of colour. 

Weaving
We weave on traditional floor looms in our Dublin studio using 100% Donegal Yarn wool which is both functionally hard-wearing yet beautifully soft. Our collection includes wallhangings, rugs, cushions, throws, and scarves in several colourways: Citrus, Seaside, Sand, and Terracotta, each piece individually woven reflecting the distinctive Arran Street East minimalist style, shapes and colours. Our in-house weaver takes great care and skill to make and finish each piece by hand, in a traditional way dating back centuries.
Pottery
Each of our pieces is hand thrown on a pottery wheel, and each takes at least a week to make from beginning to end. The Clay is pugged to the right consistency, then cut to size for each individual pot, jug or bowl. Throwing on a wheel is a skill learned over time. We throw every piece by hand to pre-determined geometric shapes.

Left overnight, the clay becomes leatherhard. After measuring and applying each handle, this is when we stamp each pot with our signature A, inspired by the old-Irish A on the Arran Street East street sign.

At this point, our Pots go through their first firing: the Biscuit firing, where the kiln gradually rises to 1030 degrees Celsius, and back down again, to take any moisture out of the clay.

The next day, when they've cooled, the Pots are set into molten wax to get the perfect straight line around the base. Once the base is waxed, we glaze inside and out, to give the pot its colour. We spend time developing and mixing our own glazes, in subtle shades drawn from our Markets area home. The glaze and wax won't mix, so we keep that nice smidgen of unglazed pot visible.

The Pots then return to the kiln for the second time, and are fired for a day and a half at a temperature that gradually goes above 1200 degrees, to achieve a matte and semi-sheen finish and to seal the material, making it safe to eat and drink from.